Petr Cech signs with Guildford Phoenix until the end of the season and will make his debutante on Sunday.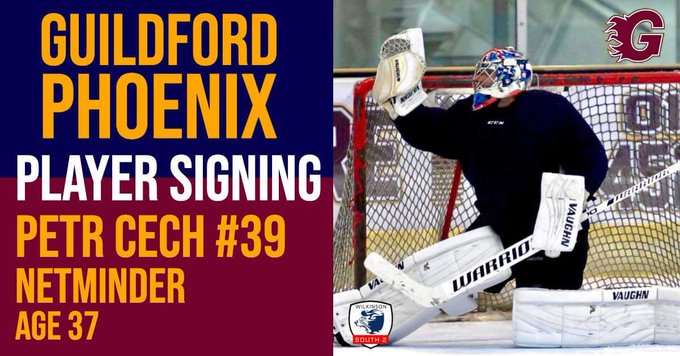 Petr Cech has exchanged pitch for ice after he signed for National Ice Hockey League team Guildford Phoenix as a goaltender.
The Czech, a big enthusiast of the sport, has put on his skates following his working towards the game since he hung his football boot.
The 37-year-old, who is currently on a contract at Chelsea as a technical and performance director, he retired from professional football at the end of last season.
He trained with another ice hockey team, the Guildford Flames, beginning of this year and the former Czech Republic international has since sought the Phoenix as a goaltender.
"I am delighted to have the opportunity to play with the Phoenix to get match experience," He said in a statement on the club's website.
"I hope I can help this young team to achieve their goals for the season and try to win as many games as possible when I have the chance to play.
"After 20 years of professional football, this is going to be a wonderful experience for me to play the game I loved to watch and play as a kid."
The Phoenix, who were founded in 2017, is in the fourth division of Britain's ice hockey pyramid.
Head coach Andy Hemmings said: "The signing of Petr is massive for the Phoenix. He is a great guy who trains hard and I cannot wait to see him make his debut."
The Club manager Milos Melicherik added: "We are very excited to have Petr join the Phoenix team and we are looking forward to seeing him in action in this weekend.
He continued: "He has improved a lot since I first saw him on the ice and I am excited to see him play."
Cech has signed a contract deal with the Phoenix to be their third-choice goaltender and will train when his Chelsea schedule allows, he proclaimed his pleasure at being capable to get back to playing in the sport he adores since his juvenile age and could make his full debut for the club in their next fixture against the Swindon Wildcats 2 on Sunday.
The Czech goalkeeper kept 202 clean sheets in a Premier League career spanning 15 years, 11 with Chelsea and four with Arsenal.
During his time as a footballer in England he acquired the Premier League four times, the FA Cup five times, the League Cup three times and picked up a UEFA Champions League winner's medal in 2011-12 and the 2012–13 UEFA Europa League. He also made 124 appearances for the Czech Republic.
Posting on Twitter on Wednesday night after the publication, he said: "Some people seem to think I've changed my job. No, I didn't.
"Luckily my job at Chelsea doesn't stop me in my spare time from playing the game I loved as a kid and which I've been playing for years. While being a professional footballer I couldn't play the game for obvious reasons. Now I can."